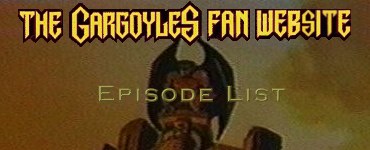 List of Gargoyles Episodes
---
Greg Weisman (producer of Gargoyles) posted some comments about how the episodes are numbered:
Please note that the episode numbers being taken off the feed do not reflect the order that the episodes were written, made or INTENDED for air. So far, all episodes have aired in the order we wanted them to.
For example, "CITY OF STONE PART ONE" is listed as episode #14. But it was always intended to be the 22nd episode to air. The number 14 was a budgetary number assigned to the episode, because it was part of a four parter that we started writing in advance, because we knew it would take longer to complete. "CITY OF STONE" was designed to follow "VOWS" onto the air.
In fact, each show has two different numbers assigned to it. A 4319 number and a GG number. 4319 is T.V. Animations code for Gargoyles. GG is Buena Vista's code for Gargoyles. It gets very complicated. Occassionally, the 4319 number and the GG number are the same and yet still don't reflect airing order. See if you can figure out why it worked out the way it did.
You may notice that 4319-024 isn't listed. I won't tell you the title, but it's GG-60 and will definitely air as the 63rd episode. My main point is that so far we've managed to keep all the episodes airing in continuity. Don't let Buena Vista's episode numbers trick you into thinking otherwise. Oh, and each show is also assigned a Tier number, but that's another story.
---- Greg Weisman
---
As you might notice, some of the episodes are lacking a synopsis. If you're interested in changing this and helping us out, contact us. To ease the search for missing synopsis information, I compiled a list
---
Season One
Airdate
4319#
GG#
Air#
Title
Greg's Ramble on Ask Greg
10/24/94
-001
1
1
Awakening, Part I
Thu, February 10, 2000
10/25/94
-002
2
2
Awakening, Part II
Fri, February 11, 2000
10/26/94
-003
3
3
Awakening, Part III
Sat, February 12, 2000
10/27/94
-010
4
4
Awakening, Part IV
Thu, February 17, 2000
10/28/94
-004
5
5
Awakening, Part V
Sat, February 19, 2000
11/04/94
-005
6
6
The Thrill of the Hunt
Sat, February 26, 2000
11/11/94
-006
7
7
Temptation
Wed, March 01, 2000
11/18/94
-007
8
8
Deadly Force
Thu, March 02, 2000
01/06/95
-008
9
9
Enter MacBeth
Fri, March 03, 2000
01/13/95
-009
10
10
The Edge
Sat, March 18, 2000
01/20/95
-011
11
11
Long Way to Morning
Fri, March 24, 2000
01/27/95
-012
12
12
Her Brother's Keeper
Tue, March 28, 2000
02/03/95
-013
13
13
Reawakening
Mon, April 24, 2000
Tue, April 25, 2000
Season Two
Airdate
4319#
GG#
Air#
Title
Greg's Ramble on Ask Greg
09/04/95
-017
23
14
Leader of the Pack
Fri, June 23, 2000
09/05/95
-019
19
15
Metamorphosis
Wed, June 28, 2000
09/06/95
-018
18
16
Legion
Wed, July 05, 2000
09/07/95
-022
22
17
A Lighthouse in the Sea of Time
Wed, July 12, 2000
09/11/95
-025
25
18
The Mirror
Tue, July 25, 2000
09/12/95
-026
26
19
The Silver Falcon
Mon, October 23, 2000
09/13/95
-020
20
20
Eye of the Beholder
Fri, November 03, 2000
09/14/95
-021
21
21
Vows
Thu, November 16, 2000
09/18/95
-014
14
22
City of Stone, Part I
Tue, January 02, 2001
09/19/95
-015
15
23
City of Stone, Part II
Tue, January 09, 2001
09/20/95
-016
16
24
City of Stone, Part III
Mon, February 05, 2001
09/21/95
-023
17
25
City of Stone, Part IV
Tue, February 06, 2001
09/25/95
-027
27
26
High Noon
Thu, February 15, 2001
09/28/95
-028
28
27
Outfoxed
Thu, February 22, 2001
10/26/95
-036
45
28
Revelations
Mon, March 12, 2001
11/06/95
-031
31
29
Double Jeopardy
Mon, April 08, 2002
11/09/95
-029
29
30
Upgrade
Tue, April 16, 2002
11/13/95
-032
32
31
Protection
Tue, April 23, 2002
11/16/95
-030
30
32
The Cage
Tue, April 30, 2002
10/12/95
-033
33
33
The Price
Wed, May 08, 2002
11/20/95
-034
34
34
Avalon, Part I
Tue, May 14, 2002
11/21/95
-035
35
35
Avalon, Part II
Wed, May 29, 2002
11/22/95
-045
36
36
Avalon, Part III
Tue, June 04, 2002
11/23/95
-037
37
37
Shadows of the Past
Wed, June 12, 2002
11/27/95
-042
42
38
Heritage
Thu, June 20, 2002
02/05/96
-044
44
39
Kingdom
Mon, July 29, 2002
11/28/95
-039
39
40
Monsters
Wed, August 14, 2002
12/14/95
-038
38
41
Golem
Mon, August 26, 2002
12/18/95
-041
41
42
Sanctuary
Thu, September 12, 2002
12/21/95
-048
48
43
M.I.A.
Mon, October 13, 2003
12/28/95
-040
40
44
Grief
Mon, October 20, 2003
02/06/96
-049
49
45
The Hound of Ulster
Fri, October 29, 2004
02/07/96
-043
43
46
Walkabout
Tue, November 02, 2004
02/08/96
-046
46
47
Mark of the Panther
Wed, November 03, 2004
02/12/96
-050
50
48
Pendragon
Mon, November 15, 2004
02/13/96
-051
51
49
Eye of the Storm
Wed, November 17, 2004
02/14/96
-053
52
50
The New Olympians
Sat, November 20, 2004
02/15/96
-056
55
51
The Green
Tue, December 21, 2004
02/19/96
-047
47
52
Sentinel
Sun, January 09, 2005
02/20/96
-057
56
53
Bushido
Wed, January 12, 2005
02/21/96
-055
54
54
Cloud Fathers
Fri, January 21, 2005
02/22/96
-054
53
55
Ill Met By Moonlight
Tue, January 25, 2005
04/25/96
-058
57
56
Future Tense
Mon, February 07, 2005
04/29/96
-059
58
57
The Gathering, Part I
Tue, January 10, 2006
04/30/96
-065
59
58
The Gathering, Part II
Thu, January 12, 2006
05/01/96
-060
63
59
Vendettas
Wed, January 18, 2006
05/06/96
-061
24
60
Turf
Thu, January 26, 2006
05/07/96
-064
64
61
The Reckoning
Wed, July 05, 2006
05/08/96
-067
65
62
Possession
Wed, July 12, 2006
Thu, July 13, 2006
05/13/96
-024
60
63
Hunter's Moon, Part I
Fri, July 14, 2006
Fri, July 14, 2006
Mon, July 17, 2006
05/14/96
-062
61
64
Hunter's Moon, Part II
Tue, July 18, 2006
Tue, July 18, 2006
05/15/96
-063
62
65
Hunter's Moon, Part III
Season Three - The Goliath Chronicles