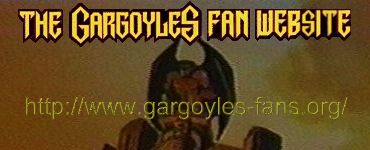 ---
Comics by Slave Labor Graphics
We live again!
In cooperation with Slave Labor Graphics, Greg Weisman brings new Gargoyles stories to the fans. Scheduled for bi-monthly release, the new comic series starts where Greg left the story: right after Hunter's Moon. Starting with a re-telling of The Journey in the first two issues, the comics will lead us to the stories Greg wanted to tell in Season 3 and beyond.
Clan-Building #1: Nightwatch (Released June 2006)
Clan-Building #2: The Journey (Released December 2006)
Clan-Building #3: Invitation Only (Released March 2007)
Clan-Building #4: Masque (Released May 2007)
Clan-Building #5: Bash (Released July 2007)

---
Comics by Marvel
Once upon a time, Marvel released a few (well, eleven) Gargoyles comics, then (ironically) stopped with the issue "Into the Future". Here's a small overview:
The Night Will Never Be the Same / Fiends In High Places (Released February 1995)
Always Darkest Before Dawn (Released March 1995)
Rude Awakening (Released April 1995)
Blood From A Stone (Released May 1995)
Venus In Stone (Released June 1995)
Venus Rising (Released July 1995)
The Pack Attacks (Released August 1995)
Terror In Times Square (Released September 1995)
The Egg And I (Released October 1995)
Out of the Past (Released November 1995)
Into the Future (Released December 1995)
Thanks to Danie Powers for the comic information.