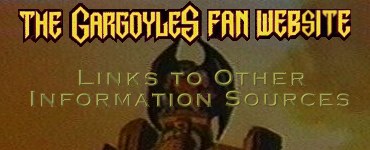 Links to other Gargoyles resources
---
Buena Vista Television
If you would like to send comments directly to a member of the Gargoyles creative team, write them via snail mail at:
Buena Vista Television
500 South Buena Vista St.
Burbank, CA 91521
---
Websites
Wow. We really have some good competition. Check out the Station 8 Gargoyles page by Gorebash. This one gets my cool site award, not that that's worth much... :-)
The Gargs - Wiki holds information going further than this site will ever be able to, with Greg Weisman himself contributing to the site.
A site dedicated to the more adult-oriented side of the fandom.
The Gargoyles Webzine. Used to be released quartely, currently on hiatus.
Searching for Gargoyles stories? Search no more. The Gargoyles Fanfiction Archive has them all.
The "Monthly Gargoyles Contest", an art contest with monthly changing topics. Also available for adults: The Adult Monthly Gargoyles Contest
---
Newsgroups
Gargoyles has its own group on the usenet: alt.fan.disney.gargoyles.