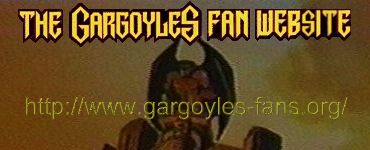 Paul's Top Ten List
Top Ten Gargoyle Crossovers I Would Like To See:
Immortal Scottish King OF BEL-AIR
WINGS...literally
FRIENDS of Gargoyles
LATE NIGHT WITH CONAN the Gargoyle-slayer
LOIS & CLARK & Elisa & Goliath
NYPD BLUE, Purple, Yellow, and Red
LIVE WITH REGIS & Demona
TALK SOUP, with your host, Hudson
STAR TREK...oops, too late!


and the number one Gargoyle crossover I would like to see:

SOUL TRAIN hosted by Owen Bennett
---
Top Ten Things I Would Like To See On Gargoyles:
Gargoyle clothes not turning to stone.
Demona:"Can't we all just get along?"
Xanatos' family: "Can't we all just get a loan?"
Goliath walks in as Elisa steps out of the shower and faints with a goofy grin on his face.
Hudson saying he can't fight evil Thursday because "Friends" is on.
Owen buying Jergens hand lotion
Lexington unknowingly having cybersex with Demona.
Hudson chanting: "Go Ricki, Go Ricki!"
Elisa asking Goliath to go buy her some tampons.


and the number one thing I would like to see on Gargoyles is:

Anyone, human or gargoyle, male or female, who possesses nipples.
Paul F.