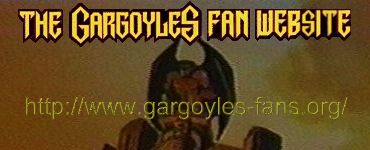 Mauro's Top Ten List
Top Ten Similarities Between Gargoyles Characters and Other Characters on TV:
Goliath and Batman. Except for...well, a lot of things. Hey, it's only No. 10, all right?
Owen Burnett has the same "service has its own reward" - attitude as Alfred the butler
Xanatos' Swat Team has some resemblance with the Star Wars storm troopers. They talk more, though.
Hudson and Al Bundy - as far as the TV watching is concerned.
Lexington is just as fond of computers as Billy, the blue Power Ranger. Is just not as nerdy.
Brooklyn could be mistaken for anyone of the male cast on 90210.
Eliza is a reflection of April on Teenage Mutant Ninja Turtles. Anybody remember?
Broadway - If he's not Homer Simpson I don't know who else.
Coldstone and the Terminator - do I need explain?


and the number one similarity:

Cagney - She looks exactly like Ices, Catwoman's cat on Batman, the animated series.
Mauro A. Canepa