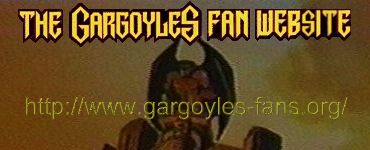 Larry's Top Ten Lists
Top Ten Nicknames For Xanatos
"Beardy-man"
"Hey! You with the ponytail!"
"Dave! Dave-a-rino! Dave-a-ruskie! The Dave-meister!"
"Bastard."
"X"
"Monkey boy" (you had to have been there...)
Xanatos with an X, not a Z, but an X" (hmmm... too obscure?)
"David 'Call Me Anything, Just Don't Call Me Late For World Domination' Xanatos"
"Xanatos, Xanatos, bo-Banatos, banana-fana, fe, fi, fo-Fanatos..." (sing along, you know the words)


and the number one nickname for Xanatos:

"Number One" :)
---
Top Ten Reasons To Watch "Gargoyles"
It's either that or reruns of "Saved by the Bell"
Dispels the rumors that Johnathan Frakes' career is dead :)
The theme song makes me wanna rock and roll all nite
Two words: Owen Burnett
"Deanna, Demona. Demona, Deanna."
Only place on TV to find buff gargoyle babes in shredded outfits!!!
"Hey pa! Lookit them funny-lookin' flyin' critters!"
Gargoyles, gargoyles, everywhere gargoyles!
Forget Ross and Rachel, let's hear it for Fox and Xanatos


and the number one reason for watching "Gargoyles":

Allows Disneys to further tighten its grip on the impressionable minds of the North American viewing public
---
Top Ten Gargoyle Pick-up Lines
"Is that the Phoenix Gate in your pocket or are you just pleased to see me?"
"Hey, nice tail"
"Remember me? I used to be in Star Trek..."
"I can stay hard all day long" (a tad vulgar, yes, I know, but it's a jungle out there...)
"You know what they say about guys with large wingspans..."
"What's your sign?"
"How'd you like to debut ON Broadway" (I'm a bad, bad man...):)
"This is New York, you could do a lot worse"
"What's a nice stone-by-day-warrior-by-night like you doing in a place like this?"


and the number one Gargoyle pick-up line:

"They don't call me Goliath for nothing" :)
---
Top ten Owen pet peeves
Rock itch
When Mr Xanatos accidently calls me "Smithers"
That guy who looks exactly like me only with black hair
The fact that it's only a matter of time before I'm turned into a genetic mutation of some kind
My funky hairstyle :)
People who say I sound a lot like Brooklyn
People who say I sound a lot like the Magus
People who say I sound a lot like Jeff Bennett
The fact that I'd always wanted to be a lumberjack...


and the number one Owen Burnett pet peeve:

The fact that the show is called "Gargoyles" and not "Owen" - Disney bastards...
Larry