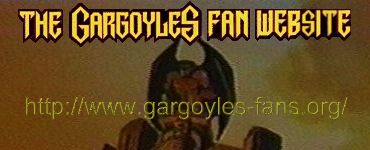 Jay's Top Ten List
Top Ten Things that Would be Just Nifty to See on Gargoyles:
Fox as Playmate of the Month.
Xanatos walking around all day with his fly unzipped.
Xanatos and Fox's baby manipulating all the other infants in the Maternity Ward into a conspiracy for world domination.
Owen with a huge cowlick.
Elisa pulling a Fox Mulder and actually carrying a second firearm.
A fatality resulting from a cause OTHER than being crushed or falling from a building.
Goliath in a double-breasted suit (with wingholes, of course).
Hudson subscribing to "Modern Maturity."
Batman: The Animated Series crossover (As if Gargoyles didn't have enough psychotics).


and the number one thing that would be just nifty to see on Gargoyles:

Goliath, just once, slapping the s**t out of Demona, and yelling, "Ahhhhh, SHADDUP!"
Jay Knioum