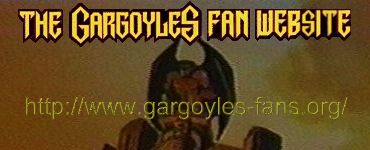 Chris's Top Ten List
Top Ten Gargoyles Scenes We'll Never See:
The Gargoyles cleanly beat MacBeth or Demona--who were fighting fair at the time.
The Wedding of Goliath and Elisa (or the honeymoon, for that matter!)
A NYC Sanitation member comes across a huge pile of Gargoyle droppings.
Owen winning a left-handed game of "Rock, Paper, Scissors."
Window washer notices HUGE claw marks in the wall of a skyscraper--on the 20th floor.
MacBeth, in a drunken stupor, tells his life story to a young William Shakespeare in a London pub.
Demona and Angela have a tender "mother and daughter" moment.
Arthur finds out that the Archmage was actually Merlin gone berserk.
In her human form, Demona gives birth and MacBeth shares her pain.
In a particularly brutal fight with Goliath, MacBeth gets kicked in the balls and Demona feels it.
Chris Ingersoll