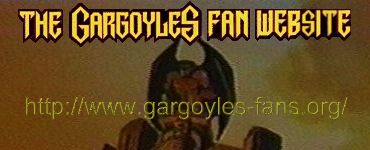 One thousand years ago, superstition and the sword ruled.
It was a time of darkness. It was a world of fear.
It was the age of gargoyles.
Stone by day, warriors by night,
we were betrayed by the humans we had sworn to protect,
frozen in stone by a magic spell for a thousand years.
Now, here in Manhattan, the spell is broken, and we live again!
We are defenders of the night!
We are


Latest news from Fan Central. Please read! New stuff as of

09/05/2011

.
New seasons of

Gargoyles

and its spinoffs, inspired by Greg Weisman's Master Plan, as envisioned by many talented fan authors and artists.
Where

Gargoyles

fans get together to discuss events of the day
If you are new to

Gargoyles

, this is the best place to start. This page discusses the settings and premise of the show as well as giving detailed insight into the story and individual character development.

Gargoyles

merchandise is getting more and more difficult to find. This is a reasonably complete listing of the items you might be able to find at conventions, or from collectors.
This page may have been the first, but it certainly isn't lonely. There are dozens of other

Gargoyles

resources on the Web.
There are many talented individuals out there that don't work for Disney (but maybe they should). Sample their work in one of the largest fan fiction archives on the net. New stories daily.
An essay series geared towards an intellectual discussion of "

Gargoyles

."
A detailed listing of all

Gargoyles

episodes. Reviews and synopses for nearly all episodes are available.
Meet the people who brought the first two seasons to life. A few comments from the creators can be found here as well.
People with a love for

Gargoyles

and a lot of free time.
Standard legal stuff so Disney doesn't sue us.


"... it's better than Barney!"
-Bill Fagerbakke (Broadway)